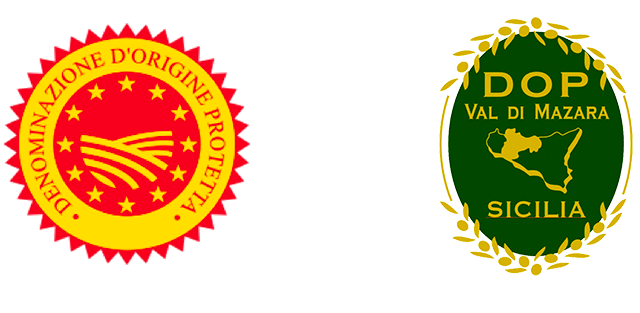 The Extra Virgin Olive Oil DOP "Val di Mazara"
Sicily boasts to be among the first regions in Italy to know the olive tree and its oil. The diffusion of this precious tree has ancient origins, between history and mythology.
In the provinces of Palermo and Agrigento, in a production area that covers over 35,000 hectares, one of the treasures of Sicily is kept: the extra virgin olive oil DOP "Val di Mazara". The attribute "extra virgin" indicates that the oil, in addition to being extracted with physical and mechanical methods without the use of solvents, has an acidity lower than 0.8%.
Biancolilla, Nocellara del Belice and Cerasuola
Together or alone to create an unique oil
These are the three autochthonous cultivar that contribute, alone or together for at least 90%, to distinguish, in taste and quality, the extra virgin olive oil DOP "Val di Mazara".
The Biancolilla variety, light with floral and vegetal scents, takes its name from the colors that characterize its maturation. The delicate relationship between bitter and spicy characterizes, instead, the Nocellara del Belice, with notes of green tomato and aromatic herbs. The olives of the Cerasuola variety are rich in pulp, characterized by hints of red tomato, thyme, origan and rosemary.
The uniqueness of our oil lies in its fruity and intense taste and its golden yellow color with shades of deep green.